By Jonathan Butcher
Staff Writer
Across the lake from the bell tower is a little known FU landmark: the doughboy statue. This copper representation of a soldier is dedicated to FU men who served and died in World War I.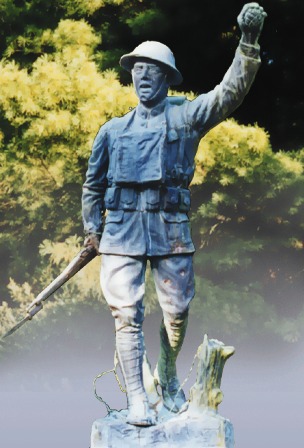 Photo by Tey Trone / Photo Illustration by Brian Ground
Click Photo for detailed descriptions of needed repairs
On the front of the cement pillar on which the statue stands are inscribed the names of the FU students who died in the conflict, including the first officer from South Carolina who died in the war, Lt. John H. David, Jr. On the back of the pillar are engraved the solemn words "More than 500 Furman men served in the World War.
Over the years, this copper statue has been damaged by weather and is now discolored. Many students, including sophomore David Axe, expressed concern about the state of the statue.
"It's embarassing that our monument to men who have sacrificed to preserve our freedom is in such horrible condition," Axe says.
Jerry Newman of facilities services responded by initiating an effort to restore this landmark.
Newman contacted Ted Monnich, the Chief Conservator of the South Carolina State Museum, who will restore the statue. Monnich is in charge of all the restoration of the metal art in the state museum, and Newman says that Monnich "comes highly recommended." Monnich will take the doughboy statue back to his studio in Columbia for a month because the work will require a great deal of detail, and moving the statue to work on it will reduce the cost of the project, says Newman.
Monnich will place a layer of copper sheet over the statue as part of the restoration.
"He is going to give preventive maintenance measures," says Newman of Monnich's restoration process. Newman says he hopes that these measures will allow more time between restorations.